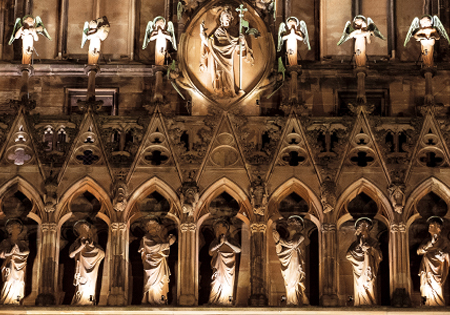 Strasbourg Cathedral, France
Lighting design by
Acte Lumiere
Darc Award Winner - Structures: Best Exterior Lighting Scheme, High Budget 1st Place Winner, International Lighting Design - CODEGA Awards IALD Award of Excellence Winner.
Single modules of Radiant's
D40 IP66 system
on custom adjustable-angle mounting brackets provide accent lighting on the exterior of Strasbourg Cathedral. Each module comprises 4 x high power LEDs with elliptical beam optics. Acte Lumiere's excellent lighting design for this project won the Darc Award for Best Exterior High Budget Lighting Scheme, 1st Place at the International Lighting Design CODEGA Awards, and an IALD Award of Excellence.

4 x high power LEDs with lenses

LED accent lighting range IP66