Soraa SLE 30 spotlights
The Soraa SLE 30 spotlights run at 16.7 Watts per spotlight head and are available in a range of CRI options, including 95 CRI, and a range of colour temperatures and beam angles. The Soraa SLE 30 light engine spotlights are optimised to work with the Soraa Snap magnetic system - including mag- netic honeycomb louvre, colour shift accessories and beam spread accessories to quickly and easily customise the lit effect on site.
The spotlights are fully lockable in both axes. Anti-glare snoot accessories can also be fitted to the spotlights for in- creased visual comfort. Radiant Soraa SLE 30 spotlights can be mounted onto the a 3-circuit Eurotrack or the RAD Track 4. Dimming options include DMX, DALI, 1-10V, or Cassam- bi wireless dimming.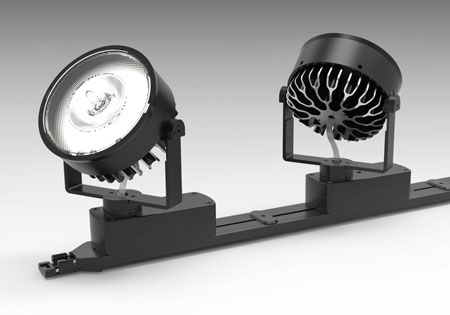 RAD Track 4 with Soraa SLE 30 spotlights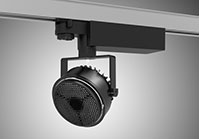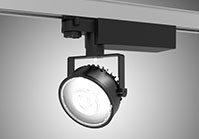 3-circuit Eurotrack with Soraa SLE 30 spotlight with anti-glare honeycomb louvre
3-circuit Eurotrack with Soraa SLE 30 spotlight