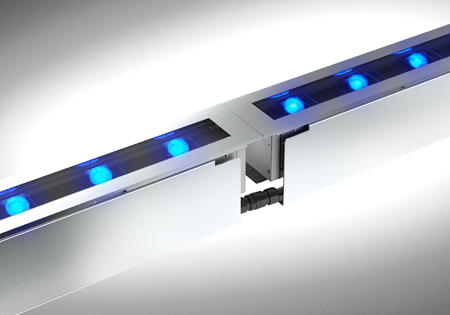 The Euclid 80 system In-Ground has been developed for use in high power exterior linear RGBW architectural lighting wall grazing applications.
The RGBW light engines comprise of a series of cluster arrays of Luxeon Z LEDs with 32mm diameter Gaggione colour-mixing lenses. The light engine is tilted at an angle within the fixture, so that the light output is aimed towards the facade which is being illuminated.
AC to DC constant current dimmable drivers are housed within the body of the fixture, allowing for ease of installation and wiring.
The Euclid 80 In-ground system fits into a buried steel housing using spring clips, so there are no visible fixings.
Anti-glare micro-louvres or snoots can be specified to ensure excellent visual comfort.
Contact Radiant for any additional information.