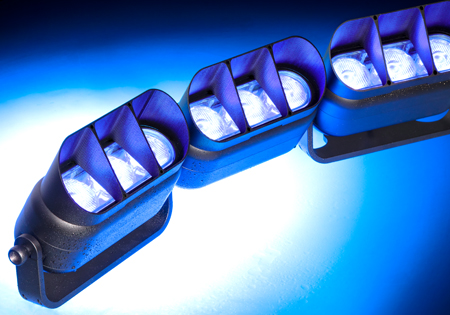 The 3D LED Flex 200 IP66 system has been developed for use in a wide variety of large-scale exterior architectural lighting projects requiring wall grazing and wall wash lighting where the building surfaces are non-linear with curved profiles and facades.
The patented articulated ball-joint system joining the heat-sink modules allows the system to follow complex curved building profiles.
The latest and largest addition to the range, the 3D LED Flex 200 can be run at up to 125 Watts per Mtr, providing up to 11,000 Lumens per Mtr.
Each 200mm long module comprises of 3 x arrays of 4 x RGBW Luxeon-Z LEDs with highly efficient Gaggione colour-blending lenses.
Integral AC to DC constant current drivers allow long lengths to be powered from a single power feed. Dimming interfaces include DALI, DMX, and 1-10V.
The system has no visible fixings and anti-glare snoots provide excellent glare control.